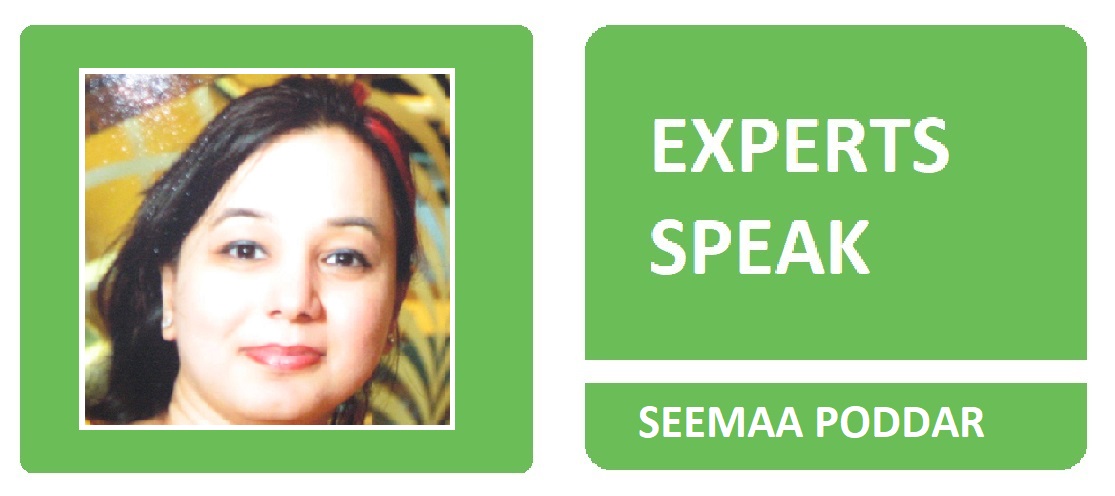 The hardest part of healthy living is being disciplined. Often times our "just this once" or "back to diet from tomorrow" attitude applies the brakes on our journey towards our goals. This time, we're bringing you the views and mantras of someone who has a very straight-forward, no nonsense approach that can help us reconsider our life style quite seriously.
Meet seasoned health consultant Seemaa Poddar!
Q. Hi Seemaa, could you please tell our readers a bit about yourself?
A. Hello this is Seemaa Poddar, since 8 years I am running my own Weight Loss/ Gain centre.
I have served more than 1000 clients till now. We provide customized and weekly diet plans after analyzing your needs, eating habits, medical parameters/history, and lifestyle and work schedule. We specialize in Sports Diet, Weight Loss/Gain Diets, Clinical Nutritional Diets, Blood Group diet, Mono diet, & much more. I am always available to motivate you to achieve your goals. I strongly believe, "Food is not food if it doesn't nourish your soul along with your body"
Q. What is your philosophy for nutrition counselling?
A. I believe that Holistic Health supports are reaching higher levels of wellness as well as preventing illness. People enjoy the vitality and well-being that results from their positive lifestyle changes, and are motivated to continue this process throughout their lives.
"Jaisa khaye 'ANN' waisa hoye 'MANN'".
Q. What are some of the diet/nutrition related myths that you've come across over the years?
A. There are many, but to mention a few :
MYTH:- LOW FAT OR NO FAT MEANS NO CALORIE.
FACT:- Often these foods have extra sugar, flour or starch thickeners to make them taste better. These ingredients add calories, which can add to weight gain.
MYTH:- HONEY IS GOOD FOR WEIGHT LOSS / HONEY IS LESS FATTENING THAN SUGAR.
FACT:- Honey provides 3 calories per gram and Sugar provides 4 calories for the same volume (per gram). But the effect of honey on your weight is the same as that of sugar.
MYTH:- FAST FOOD IS ALWAYS UNHEALTHY AND YOU SHOULD AVOID IT WHILE DIETING
FACT:-  Certain fast food, especially grilled (eg. tandoori) and steamed (eg. idli) foods can be a part of a healthy weight loss program!
Q. What is your "mantra" for living healthy?
A. Mantra 1: –  Fat is not funny. When you reach for that extra piece of bread or "just two" cookies, remind yourself that you find no humor in being overweight.
Mantra 2:- Food is my Friend, Fat is not. Like any friend, food can wear out it's welcome. In measured quantities it is enjoyable, but overdo it and it becomes annoying.
Q. What is your opinion on OZiva – the products and the philosophy?
A. My Opinion – OZiva is good result oriented product. My clients are satisfied using it. It is organic. The entire OZiva team is quite supportive.
Q. We know you as an exceptional dietitian – we would like to know what you are like when you're not working!
A. I would love to spend some more extra time with myself, Nature & my Books.
Most people find it difficult to stick to a healthy lifestyle or end up giving in to their cravings and binges because they forget that they are NOT "Okay" with being unhealthy. The trick is to never forget why you started and you will never run out of motivation.
---
Big thanks to Seemaa for sharing some incredible insights with us!
Go check out her website – www.seemaajpoddar.com
You can reach out to her on – 9619627825
Seemaa has been around for a long time and her tremendous reviews on her website speak volumes about her
---
We'll be coming up with more of these soon, stay tuned!
PS – If you are a registered dietitian or a certified fitness coach and would like to make the country healthier with us, write to us at – partner@oziva.in