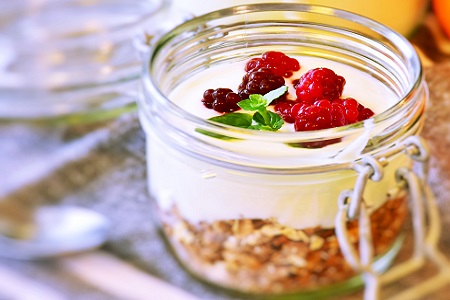 It is very important to have a nutritious protein rich breakfast that keeps you energised and full till lunch! It would help you stay active and also keep hunger away so you can concentrate on whatever you love doing. It would also motivate you to eat healthy all day long!
Here are some delicious protein rich breakfast recipes that would kick start your day!
Parfait
This high protein breakfast is delicious to to eat and can give uptop 20g of protein per serving!
Ingredients
½ cup Greek Yogurt or Cottage cheese
6 tablespoons high protein, whole grain cereal
Mixed fruits of your choice (seasonal fruits are the best!)
Walnuts
1 teaspoon Honey (optional)
Directions
Take a wide glass or a jar to plate these ingredients. Start by layering a tablespoon of yogurt or cottage cheese.  Add some cereal on it followed by fruits and nuts. Continue this layering till all ingredients are used or the glass is full.  You can also top it off with some toasted seeds of your choice.
Peanut Butter Toast
A simple peanut butter sandwich can do wonders. Imagine what it could do with bananas and seeds!
Ingredients
2 tablespoon Peanut Butter (crunchy or smooth, preferable homemade)
1 banana chopped into coins
1 tablespoon chia seeds
1 glass of milk
2 Slices of bread
Other fruits (optional)
Directions
Toast the bread slices. Spread around 1 tablespoon of peanut butter on each slice. Place the banana slices on one of the sides. You can also add other mixed fruits on the bananas. Sprinkle over the chia seeds. Close the sandwich by placing the other layer on top of it.
Serve it with a glass of milk and enjoy!
Protein Smoothie
This protein smoothie is easy to make and doesn't take much time!
Ingredients
1 cup mixed Seasonal Fruits + 1 tablespoon
1 cup Greek yogurt
1 tablespoon flax seeds
2 teaspoon honey (optional)
coconut shavings (optional)
Directions
Blend everything together in a blender! Add some coconut shavings on top with some mix fruits and enjoy! You also take this on the go!
Nutritional Meal Shake
You can also add OZiva  Nutritional Meal Shake as a healthy protein rich breakfast option!
Add OZIVA Protein & Herbs Shake to Your Diet if your diet is lacking in proteins.
If you want a detailed nutrition consultation, drop us a mail at nutrition@oziva.in or call us on 9769298556 and our experts will help you with your fitness goal