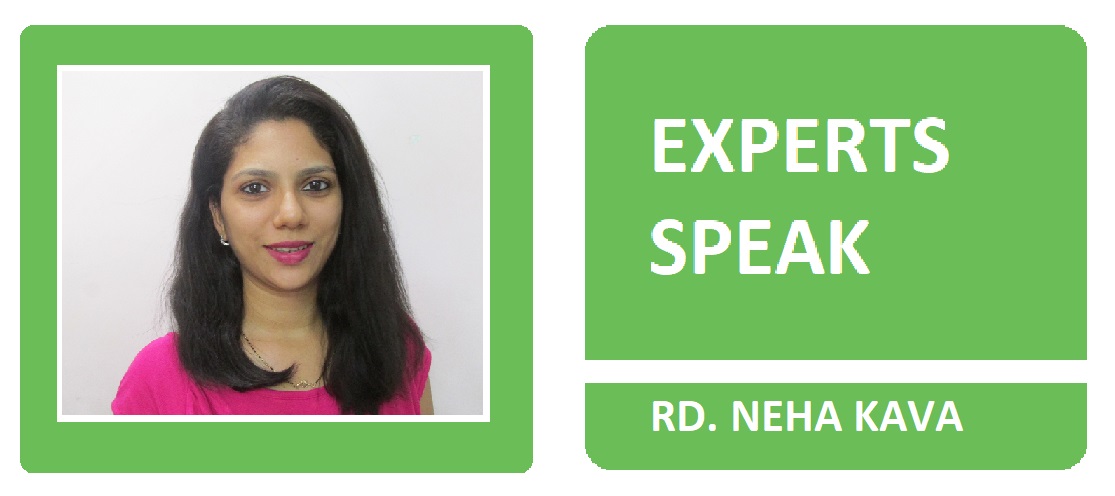 You probably see lots of posts every day about health and fitness on your social media feed. Many fitness enthusiasts waste no time in sharing their knowledge and experience about health, fitness, and nutrition over social media. While it may motivate some, most of us remain sceptical or get confused.
So we're bringing to you, experts from the health & fitness industry – registered dietitians, certified fitness trainers & coaches – and sharing with you their thoughts and their approach towards living healthy and staying fit.
For our very first feature, we've caught up with Neha Kava, a registered dietitian based out of Mumbai
Q. Hi Neha, could you please introduce yourself briefly to our readers?
A. Hello there, I am Registered Dietician (IDA) Mrs. Neha Kava practising in Kandivali-Borivali (Mumbai) as a freelancer and I also do online consultations. I've been in the nutrition field for almost 6 years now with expertise in weight management and clinical nutrition. I work as a health consultant on panel with a few doctors and I'm also a certified sports nutritionist.
Q. What is your philosophy for nutrition counselling?
A. I am glad that I have been into this profession as it has changed my life to a great extent. Understanding food(s) and then eating them makes sense. I focus on educating my clients and patients to choose the best food for themselves, as every individual has different requirements. Understanding your body before giving it nourishment is very important.So my nutrition counselling majorly focuses on Lifestyle Management
Q. What are some of the diet/nutrition related myths that you've come across over the years?
A. As we say half information is dangerous. Thanks to social media and internet which has jammed the knowledge of diet & nutrition. People come to me with so many assumptions and myths.
Some of the most frequent ones I get to hear are –
i. "If I stop exercise at gym, I will gain weight again."
Isn't it obvious with any kind of exercise? When you exercise your energy expenditure is high so you are likely to lose weight. When you stop that expenditure you will save that energy and gain weight.
        ii. "Protein is important only for body builders."
When you move/exercise, there is break up of muscles. So who will repair that? Of course, proteins are building blocks of body. So when you cannot meet up protein requirement from diet, it becomes necessary to supplement it.
        iii. "Restrict oil but eat plenty of ghee." etc
These are the most common which I can recollect now.
Q. Do you have a "mantra" for living healthy?
A. Every day our body undergoes degeneration and physiological change and we progress towards ageing. Ageing is definitely a natural process, but ageing healthy or unhealthy remains your choice. Make mindful food choices today, not tomorrow.
Q. What is your opinion on OZiva – the products and the philosophy?
A. The best thing about OZiva is that they have touched the root of Indian tradition. Herbs which were forgotten and over looked have come back with its obvious impact. I am happy that the products are made using herbs which along with macro nutrients also give your body the lost immunity in today's time.
Using different herbs for males and females further makes it more specific and result oriented. I have tested these products. They have high acceptance among my clients and they enjoy that taste of natural herbs added.
Q. We know you as an exceptional dietitian – we would like to know what you are like when you're not working!
When I am not working, I am like a kid because I play outdoor games with my kid. It is the best way to exercise when you have no time for exercise.
This just shows that simple steps add up and contribute in a big way towards keeping yourself fit and healthy – be it mindful eating or getting exercise through games or activities you love. Living healthy is about your lifestyle, not about following regimes.
---
Big thanks to Neha for being a part of this!
You can check out her personal blog at – www.nutrichoice4u.com
Or if you'd like to get in touch with her – rdnehakava@gmail.com
---
In the meanwhile, stay tuned, we have lots more coming your way. Till then, cheers!
PS – If you are a registered dietitian or a certified fitness coach and would like to make the country healthier with us, write to us at – partner@oziva.in