OZiva, India's leading clean and plant-based wellness brand, has been at the forefront of helping women lead a healthier and better life – with several women's health initiatives.
Our portfolio of women's health and wellness products include: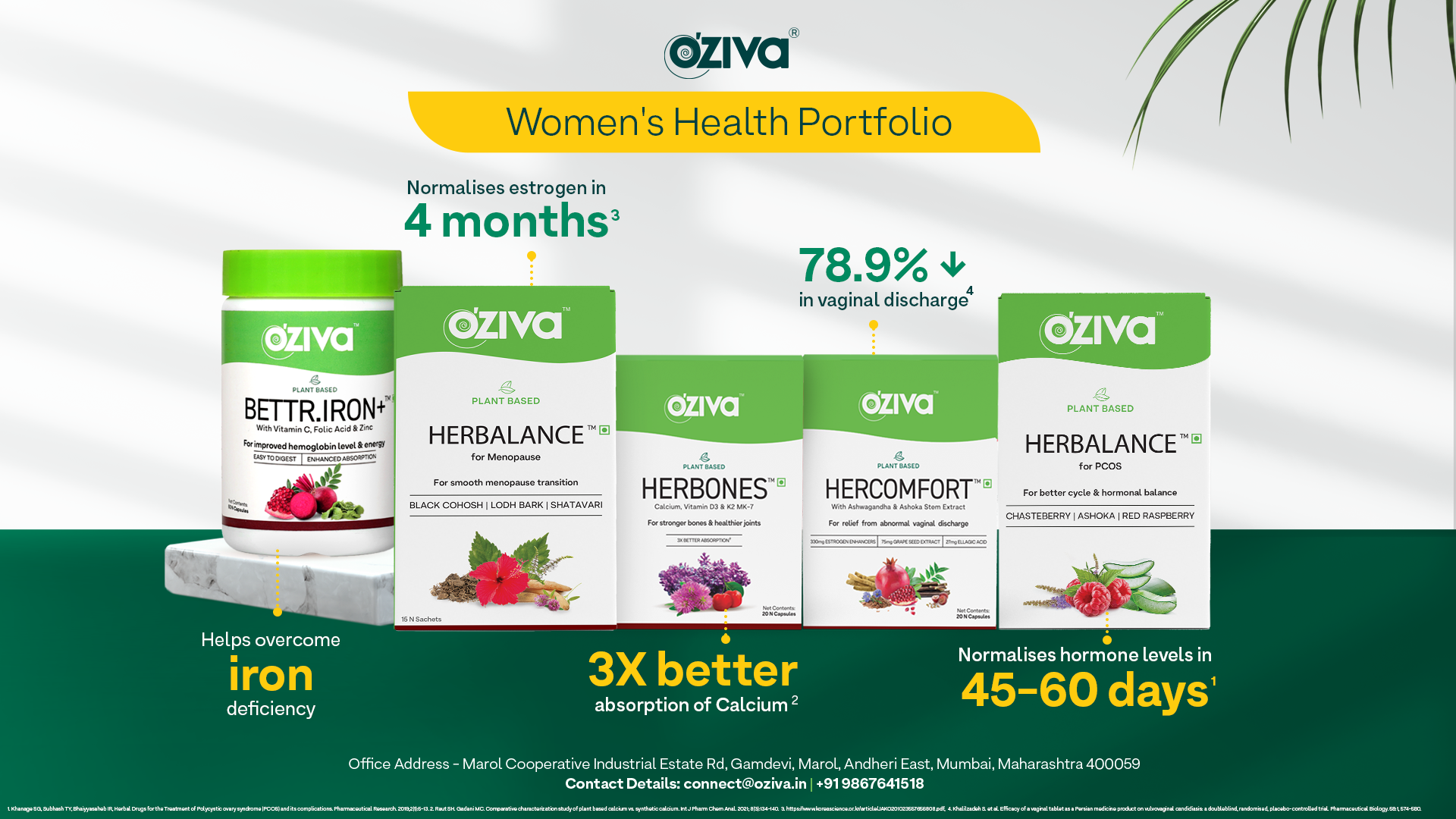 OZiva HerBalance for PCOS

is a holistic management option for PCOS that normalises estrogen and testosterone levels in 45-60 days.

 

OZiva HerBones

balances estrogen levels to prevent bone loss, and regulates and enhances 3X better absorption of Calcium as compared to synthetic calcium.

OZiva HerBalance for Menopause

eases symptoms of menopause, normalises estrogen with 4 months, supports sound sleep, anti-stress effects & controls mood swings.

OZiva HerComfort

leads to a 79.4% decrease in abnormal vaginal discharge and supports healthy vaginal skin.

OZiva Better Iron+is made from 100% natural & plant-based ingredients specially designed to improve haemoglobin levels and energy in the body.
Supporting a Better Her In Every Way, at Every Stage
Supporting women's health cannot be limited to a single aspect. It needs a deeper understanding of a woman's journey and crafting solutions that look at her lifestyle, needs and requirements holistically. 
OZiva, in an innovative concept, is on a mission to reach out to 50 million Indian women and empower them to take charge of their health, addressing common health concerns through the ages.
Our products are Certified Clean with US CLP, i.e. without any harmful chemicals and FSSAI or Ayush Certified

We believe that together, we can improve the quality of life for women, and revolutionise women's health in India. Together, we can make this happen.