Reading Time:
2
minutes
You are the greatest influence on a woman's health. Let's talk more about OZiva raising awareness on women's health to millions of Indian women. 
From the time a woman is born until her old age, her reproductive health, bones, muscles and every aspect of her body needs care and support.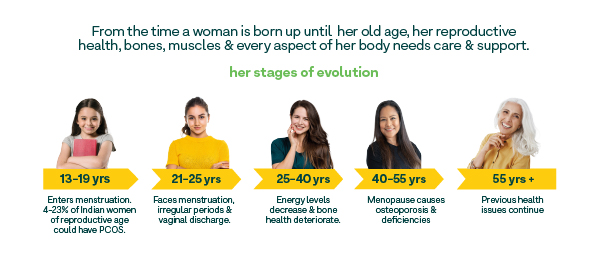 The Current Need for Change 
Very often, women ignore their health and opt for short term solutions rather than checking with doctors. This can turn problematic due to multiple reasons:
There is no holistic approach towards the health and wellness of women.

A disconnected and unidirectional approach towards her health does not improve its quality in the long run. 
It is the need of the hour to provide solutions to women's health that not only addresses these issues but also provides preventive care.
OZiva – Supporting a Better Her In Every Way, at Every Stage
We introduce OZiva, a complete solution for women's health and wellness. OZiva believes that women's health is an evolving journey which we support at every stage of her life through our holistic understanding of her requirements. 

Our mission is to empower every seeker to achieve holistic wellness with Clean, Plant-Based products that provide the goodness of natural and herbal ingredients, further enhanced by modern science.
This is OZiva's commitment to you.
Clean, Plant Based
Staying away from preservatives, artificial sweeteners, colours, allergens  – we source the most authentic ingredients from farms across the globe to ensure you get the Clean Nutrition to live an active life.
Based on Ayurveda 
Combining thousands of years of Ayurvedic wisdom & the Modern day foods – we create products that give you the benefits of both the sciences 
Going beyond the products
Our complete ecosystem offers more than the products – Free diet consultation digitally and guidance from experts to keep you motivated and to help you on your journey of being better.  
Our products are Certified Clean by the US CLP, and also Certified by the ISO, GMT, and FSSAI. 

We want to empower millions of Indian women to take charge of their health to ensure they live stress-free. 
We believe that together, we can improve the quality of life for women, and revolutionise women's health in India. Together, we can make this happen. 
Visited 1 times, 1 visit(s) today
Last modified: June 1, 2022