Over 500 gynaecologists from all over India attended OZiva's one-of-its-kind workshop – The Synergistic Interplay Between Estrogen and Bone Health!
Mittal conducted a conversation with Dr. Bharati Dhorepatil, MBBS, DGO, DNB – Obstetrics & Gynaecology, about the link between calcium and estrogen. 
We missed seeing you there! So here are two major takeaways from the workshop:
 Phytoestrogens, in combination with Vitamin D3 and Calcium, are a safe option for women to take continuously. A combination of such is found in our product HerBones for better bone health
We believe that together, we can revolutionise women's health in India.
Such a combination is found in our product –
HerBones for better bone health!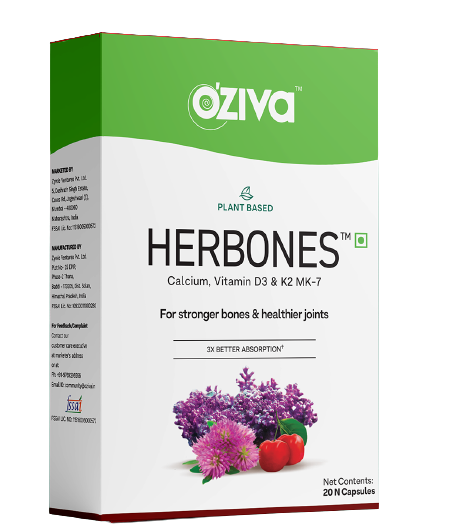 Between the ages of 25 and 35, bone density is at its peak. As you become older, it decreases. Even without a fall or other damage, this can result in brittle, fragile bones that break readily. 
Most bone health treatments focus on calcium, but for women, estrogen is equally important to maintain bone health. This is something not a lot of women know. 
Which is why we make sure to use plant based ingredients like Calcium, Vitamin D3, K2 and MK – 7
Women benefit from our product HerBones in the following ways:
Increases calcium absorption
3X better absorption than regular calcium

2X magnesium, 7X boron and vitamin D3 support calcium absorption
Promotes and maintains bone health
Vitamin K2 promotes calcium deposition in bones

Vitamin C is a cofactor for collagen synthesis
Maintains Estrogen levels
Phytoestrogens support bone formation and prevent bone loss, and prevent antioxidant and anti-inflammatory activity
Our products are Certified Clean with US CLP, i.e. without any harmful chemicals and FSSAI or Ayush Certified

We are forming a community of advocates to revolutionise 50 million women's health in India and help them manage their bone health. So that their quality of living is better and stress free. We would love you to partner with us in this mission! 
If you would like to try HerBones, click here to register for a free sample!