Reading Time:
3
minutes
A common statement we often hear is that Calcium helps build healthy bones. That is true. Calcium is indeed an important mineral for bone health. But that's the half-truth! Yes. Read more to find out. 
While Calcium is essential to maintain bone health, the body first needs to be able to absorb it completely to put it to actual use. And for better Calcium absorption, you require Vitamin D. On top of that if you are a woman, you need another element – Estrogen – to maintain a strong bone density, especially when you cross your 30s and 40s. 
Between the ages of 25 and 35, bone density is at its peak. As you become older, it decreases. Even without a fall or other damage, this can result in brittle, fragile bones that break readily. Most bone health treatments focus on calcium, but for women, estrogen is equally important to maintain bone health. This is something not a lot of women know.
How does Vitamin D help? 
Lower levels of Vitamin D (Vitamin D3 to be specific) or the absence of Vitamin D affects calcium absorption, while higher levels of Vitamin D improve calcium absorption.
When calcium doesn't get absorbed properly, there are chances that it will get accumulated in the arteries. This can lead to Calcification. Calcification is the process where with time, these calcium buildups (called plaque) become the main causes of heart attacks in the arteries. 
If a piece of plaque breaks off the buildup, it can form a blood clot, thus blocking oxygen flow through the arteries as well. 
Ladies, how does Estrogen help your bone health? 
For women in their 30s and 40s, estrogen plays a key role in skeletal growth and bone homeostasis. Estrogen deficiency can lead to bone resorption and inadequate bone formation. 
While normal estrogen supplements are a little tricky to take, you can solve the problem by opting for plant-based estrogen or phytoestrogens. 
Phytoestrogens, in combination with Vitamin D3 and Calcium, are an optimal combination for better bone health in women
Such a combination is found in our product –
HerBones for better bone health!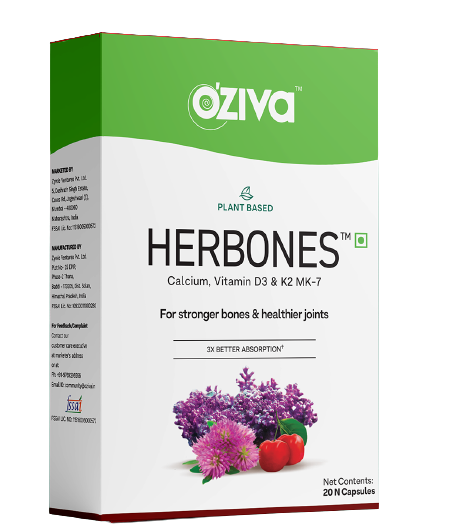 OZiva HerBones uses plant-based ingredients like Calcium, Vitamin D3, K2 and MK-7.
Women benefit from our product HerBones in the following ways:
Increases calcium absorption
3X better absorption than regular calcium

2X magnesium, 7X boron and vitamin D3 support calcium absorption
Promotes and maintains bone health
Vitamin K2 promotes calcium deposition in bones

Vitamin C is a cofactor for collagen synthesis
Maintains Estrogen levels
Phytoestrogens support bone formation and prevent bone loss, and prevent antioxidant and anti-inflammatory activity
Our products are Certified Clean with US CLP, i.e. without any harmful chemicals and FSSAI or Ayush Certified

We are forming a community of advocates to revolutionise 50 million women's health in India and help them manage their bone health. So that their quality of living is better and stress free. We would love you to partner with us in this mission! 
See the OZiva reel on bone health here. If you would like to try HerBones, click here to purchase.
Visited 1 times, 1 visit(s) today
Last modified: August 2, 2023