Reading Time:
6
minutes
Is your skin dry in some areas, but oily in the rest? That is a clear sign that you have a combination skin type. Combination skin can sometimes be tricky to tackle and feels like you have to balance everything. There are many reasons you could have combination skin – including genetics, hormonal influences (such as an excess of testosterone in the skin), and environmental factors (like heat, frost, or humidity).  Since combination skin's condition can be variable, there is no universal solution to it. However, there are ingredients and products (like Vitamin C benefits) that can treat your combination skin as it deserves. Read on to understand more about combination skin and the best ingredients for it: 
3 Signs that you have Combination Skin
You have both oily and dry skin spots 
Combination skin means you might feel oily in your T-zone (your forehead and the tip of your nose) but dry in your cheeks, jawline and hairline (including flakiness, wrinkles, dullness and fine lines). You can have multiple skin types in your complexion.
   2. Your skin can get dry in winter and oily in summer 
When you have combination skin, your dry to oily skin ratio fluctuates within seasons. During the summer, especially if you live in hot and humid climates, the sebum production in your skin can increase, causing your T-Zone to feel oilier and your dry spots to feel dry. In winter, the opposite happens, and the constant exposure to the elements takes the moisture from your skin. Your T-Zone feels normal but your spots feel drier. 
3. You can experience both breakouts and dryness 
Combination skin can sometimes experience excess oil production and clog your pores, leading to mild acne breakouts during periods like hormonal imbalance and menstruation. These blemishes mostly appear on the forehead and nose tip, while your cheeks and jawline often feel dry. 
You can even have combination skin that does not fall into these symptoms. You might feel confused if you actually do have it, but there are categories including dry combination skin and normal combination skin. There is a simple way to find out. 
All you have to do is touch your cheeks and T-Zone. If your cheeks feel "normal" and not particularly dry, you have normal combination skin. If your cheeks feel dry and your forehead shiny, you have dry combination skin. 
How to Treat Combination Skin – Vitamin C Benefits 
Now that you have understood this complex skin type, you can choose the right ingredients, skin care products, and ingredients to treat it. 
Using beauty products that are 100% "clean" or free of any harmful chemicals, minerals, sulphates, parabens and other contaminants – and plant-based (formulated only with natural ingredients) is a great way to treat your combination skin for long periods of time. 
The OZiva Clean Beauty range has several products that might help, but we'll spend our time talking about one of the most powerful ingredients for combination skin – Vitamin C.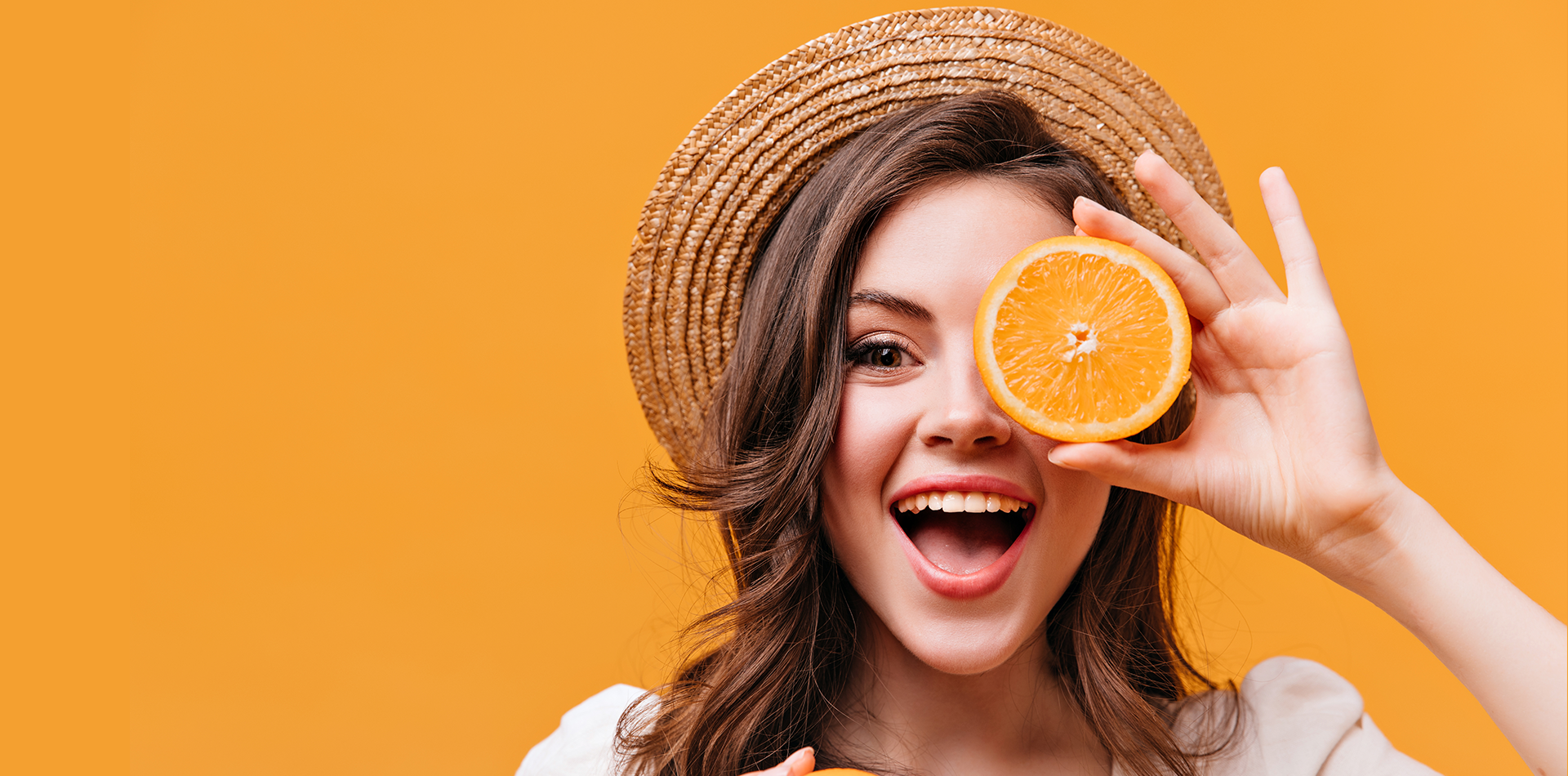 Vitamin C is one of the best ingredients in the market for anti-ageing. Vitamin C benefits for skin include skin glow and an even tone.   Although you're getting Vitamin  C in your diet, there is no guarantee that the Vitamin C you consume goes straight to your skin. Using Vitamin C serums, Vitamin C moisturisers, and other clean beauty products is the most direct way to get and track these Vitamin C benefits. 
The OZiva Bioactive Vitamin C30 range takes Vitamin C as a hero ingredient and contains it in high concentrations for higher efficacy at a lower market price. While this range is safe for all skin types, including dry, sensitive and oily skin, it is especially suitable for combination skin. The main benefits of Bioactive Vitamin C are skin glow, even tone, antioxidant activity, and anti-ageing – all of which take care of various aspects of combination skin. Here's a breakdown.
For oily T-Zones – Vitamin C is a powerful antioxidant, which protects skin from damaging effects of free radicals (which are caused due to stressors such as UV exposure and pollution). This antioxidant activity helps minimise pores in skin by unclogging congested pores, clear dead skin, and reduce excess sebum. This takes care of the oily part of your combination skin.
For dry outer zones – On the other hand, your dry zones might be prone to flakiness, wrinkles, fine lines, and dullness, as well as pigmentation and uneven skin tone. Vitamin C detoxifies the skin to bring out a refreshing glow, and induces strong collagen buildup in the skin.  It helps reduce melanin buildup in the skin and thus can help fade excess pigmentation in the face for a more even skin tone.  Collagen is a protein that is responsible for the plumpness and suppleness of skin. It can get depleted as you age (especially over the age of 25) due to natural factors like pollution and needs to be replenished. Replenishment of collagen leads to reduction in wrinkles and fine lines and gives the skin a youthful glow.

Thus, Vitamin C takes care of your combination skin very easily. Aside from these, Vitamin C has one of the highest safety profiles in the beauty game. Many people can use it safely for their skin over a long period of time without any reactions to reap Vitamin C benefits from Clean Beauty without any side effects. 
Try the OZiva Bioactive Vitamin C30 Range for Maximum Vitamin C Benefits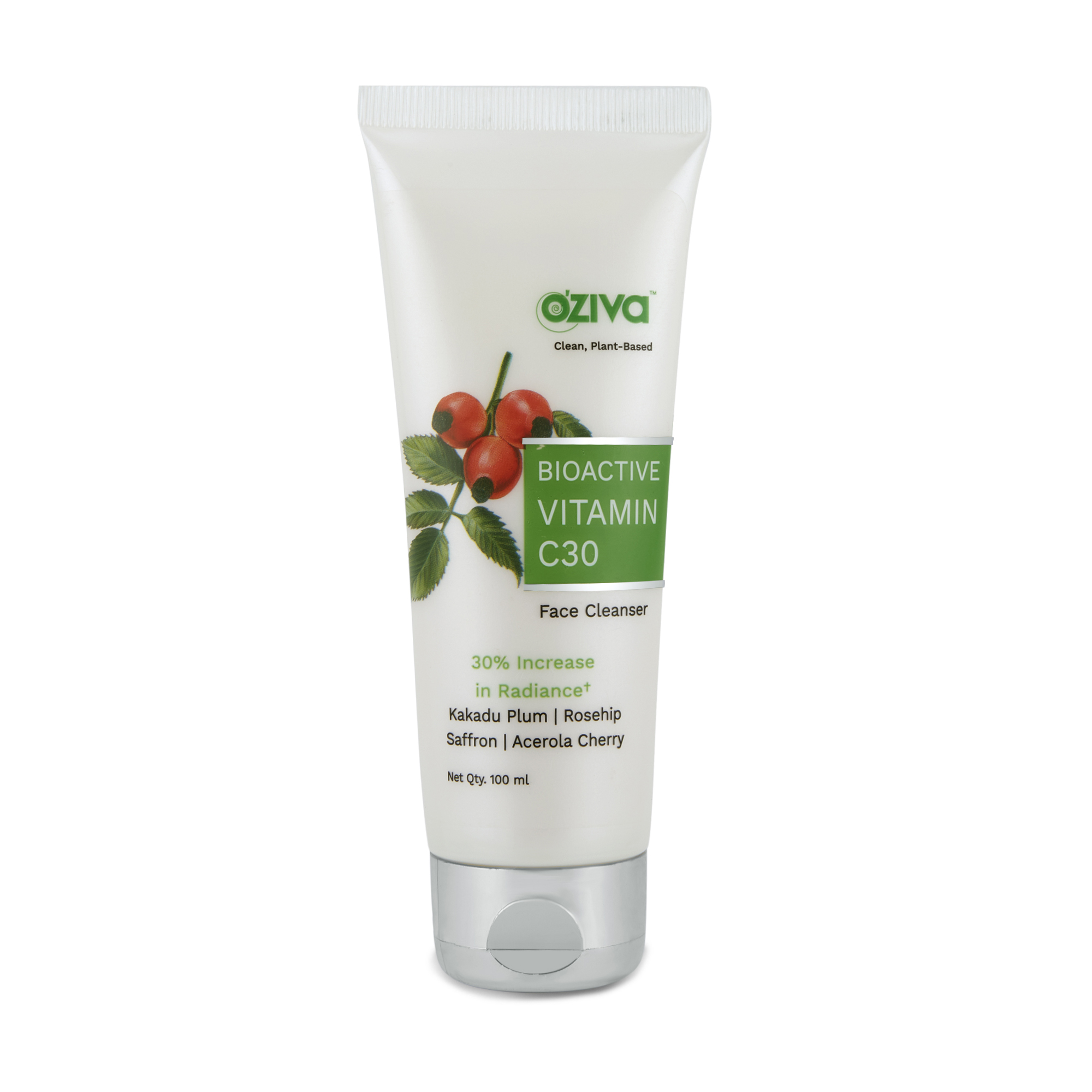 Both the gel-based Face Cleanser and the foam-based Foaming Face Wash contain potent plant-based ingredients like Acerola Cherry, Kakadu Plum and Rosehip, rich sources of Vitamin C.  They gently exfoliate and balance your pH levels, leaving your skin soft and refreshed.  Both the OZiva Bioactive Vitamin C30 Cleanser and OZiva Bioactive Vitamin C30 Foaming Face Wash promote 30% Increase in Radiance in 8 weeks*. 
*Based on clinically proven ingredient in product – Superox C-AF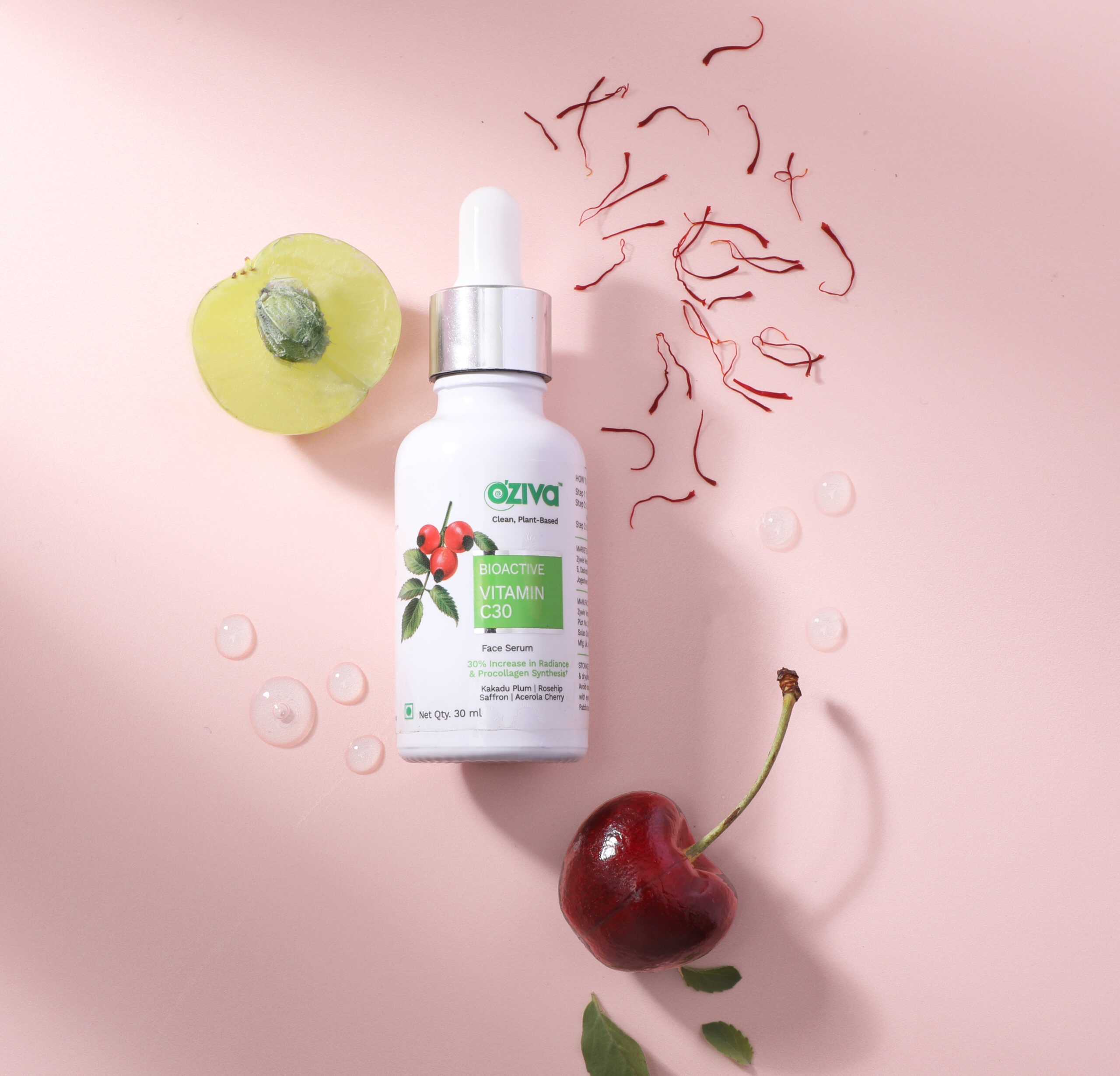 The OZiva Bioactive Vitamin C30 Face Serum is thin and light, and has a higher concentration of ingredients than the moisturiser. Its smaller molecules penetrate deep into the skin and help shield it from free radical damage. The OZiva Bioactive Vitamin C30 Face Serum promotes 30% Increase In Skin Radiance & Procollagen Synthesis after 30 days*, which allows for building collagen naturally in the skin for reduced fine lines and wrinkles. 
*Based on clinically proven ingredient in product – Superox C-AF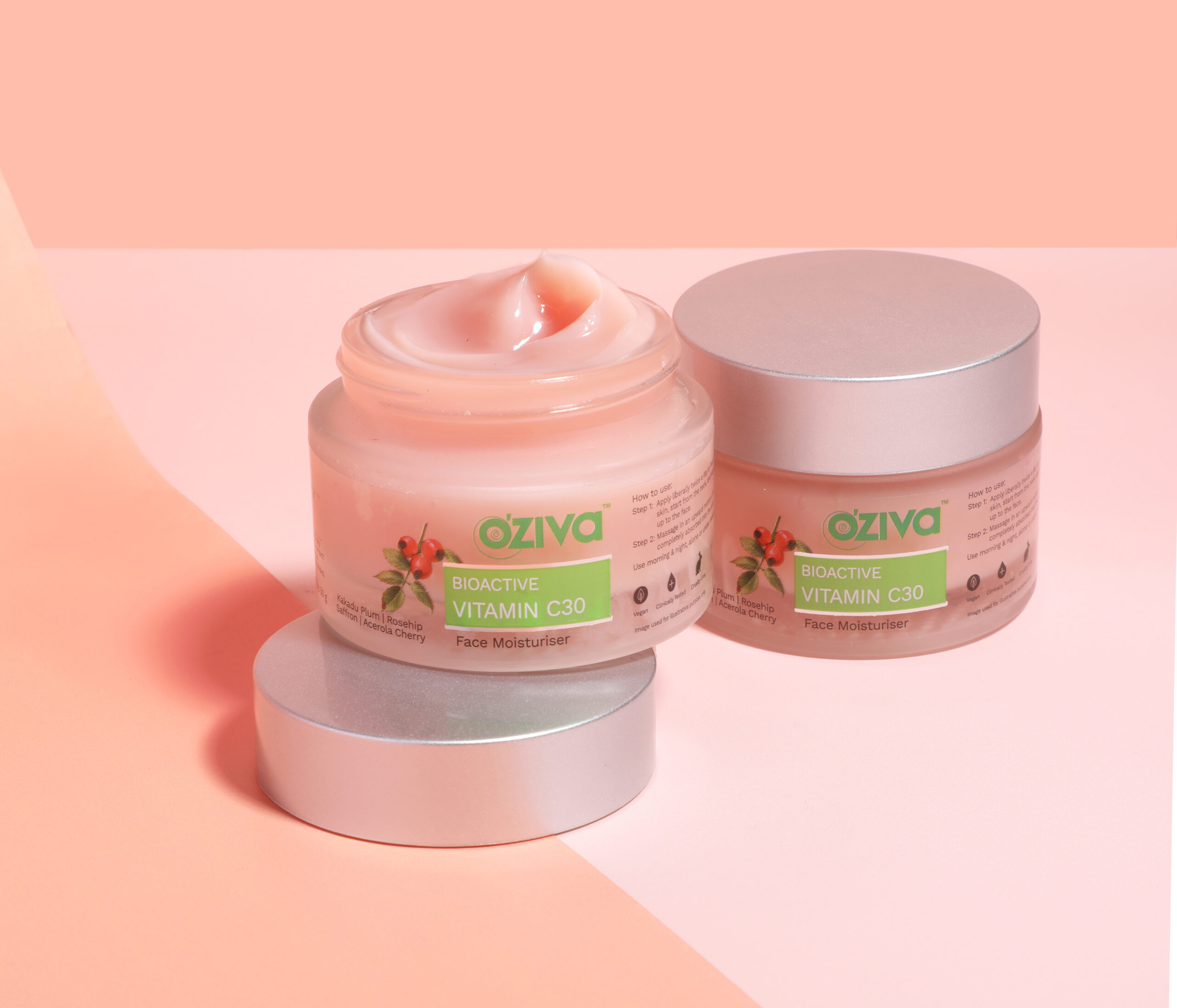 This richly-textured moisturiser promotes 30% Increase Skin Radiance & Hyaluronic Acid Induction after 30 days*. It is best used overnight or as part of an evening ritual to allow the effects to fully absorb into your skin. OZiva Bioactive Vitamin C30 Moisturiser promotes 30% Increase Skin Radiance & Hyaluronic Acid Induction after 30 days*. Hyaluronic Acid is well-known for benefits for skin, such as alleviating dry skin, reducing the appearance of fine lines and wrinkles and speeding up wound healing.
*Based on clinically proven ingredient in product – Superox C-AF
OZiva Bioactive Vitamin C Face Pack is a highly effective natural face pack to maintain a fresh and youthful look. Kaolin Clay, a popular ingredient in Face Packs, has a natural drawing effect and helps to pull out impurities from your skin. It pushes out dirt from deep inside your skin and brings it to the surface, making it much easier to wash away. OZiva Bioactive Vitamin C30 Face Pack Promotes 30% Increase Skin Radiance & Hyaluronic Acid Induction after 30 days*. 
*Based on clinically proven ingredient in product – Superox C-AF
What's the Take 
While Vitamin C benefits all skin types, it seems like the perfect remedy for combination skin. Bioactive Vitamin C helps minimise the pores of the oily T-Zone, while also reducing fine lines and wrinkles, ensuring skin glow to fight dullness and fade pigmentation on the dry zones.  Try out the OZiva Bioactive Vitamin C30 range for your combination skin! 
Visited 1 times, 1 visit(s) today
Last modified: July 16, 2022