Reading Time:
5
minutes
Rising numbers of farmers in India are struggling to gather the income to educate their children. 
Around 60% of Indians do farming for a living. But the truth is that the salary of an average farmer is just under ₹5000 per month. This amount is not enough for them to live comfortably and provide for their families. Being keenly aware of this (since as a brand we have a close relationship with farmers), we began the OZiva Kisaan Vikas program to provide such farmers with sustainable livelihoods. Our goal is to empower 10000 Indian farmers by 2025. 
Maharashtra, October 2022 
To kick off the program, our team paid a visit to the Satara district in Maharashtra to meet the farmers in the villages such as Tandulwadi, Jalgaon and Shirdhon. One of the things that Team OZiva first noticed and cherished about the farmers of Satara are how they were willing to go above and beyond their means and income to give their children a good education to elevate their lifestyles.
Every parent desires for their children to study and reach a brighter future. What was heartening was that to these farmers, knowledge and education are of high importance, wanting to ensure that their children do not drop out of school beyond the 10th or 12th standard, like they had to do. 
Now we share two personal stories of farmers' dreams and motivations for their children's futures. 
The Willpower of the Matkar Family 
"We have not thought about how to fund their (his children's) further studies till now," admits Pandurang Vishnu Matkar, 55. 
This humble farmer lives with his wife Rupali and two children on a farm in Satara, less than 0.5 acres in size. Aware of its small size, the family has worked hard to use the small piece of land throughout the year to increase its yield potential – they grow rice, wheat, jowar, sugarcane and bajra seasonally and alternatively. 
Still, the land gives his family an income of only about ₹2500 a month – which goes to cover the family's needs. While the family mostly makes it last, there are months where it is just too difficult, they admit. 
"Everything is so expensive now. Sometimes, our income gets too little," says Pandurang. "We also have a goat, which is another source of income," adds in Rupali. Aside from getting up at dawn to work in the fields alongside her husband, she runs a bachat gat (savings group) for  the other women in her village, earning about  ₹1800 a month. It is a long, hard day for her, but she does not complain, knowing the cause for which their family toils.   
Pandurang admits that what the money mainly goes towards is the education of his two children. Samiksha, 17, studies in the junior college in Satara, and Swaraj, 16, is in the 11th class. While Samiksha's aim is to be a doctor (she is preparing for the NEET exam), Swaraj's mind and heart are currently leaning towards engineering (he is undecided though, his mother smilingly says). 
The two children are Pandurang and Rupali's pride and joy, and their education is the family's highest priority. He vows to support any and all dreams of theirs with an open heart. 
"From the beginning, I have not differentiated between my son and daughter. Knowledge is precious, whether it goes to a girl or boy. For our children's studies, we will do anything they want!" he declares emotionally. 
Indeed, Pandurang and Rupali are prepared to put in more work, undertake more efforts, purchase more cows and goats, and even take out a loan if necessary. Their minds are already focusing on what they have to do to grow their incomes, without an ounce of regret or further thought. Their only condition is that Samiksha and Swaraj do not drop out of their studies, to ensure that their futures are set. 
Such is their pure grit and determination to allow education to uplift their children. 
Both Samiksha and Swaraj belong to the OZiva Kisaan Vikas program, where they receive monetary support for their education from Team OZiva, enabling them to get closer to achieving their dreams and the dreams of their parents.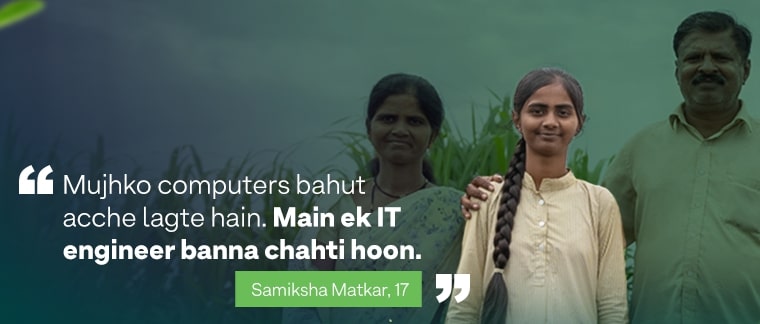 Farmers: Fight Faced by the Barge Family 
Till about a decade ago, Dipak Barge and his family were settled reasonably comfortably in Mumbai. His daughter, Ruchita, was born there. They had a family-owned (joint family) farm in their native village of Shirdhon in Maharashtra, but they did not depend on it for their futures. Their plan was to continue to live in the city. 
An incident one day altered the family's hopeful futures permanently. Dipak Barge was hit by a car, badly hurting one of his legs in the process. He was immediately rushed to the hospital, but the damage was done. He was to lose a leg permanently, to the shock of his family. Unable to find work in the city due to his situation, a shocked Dipak and his family relocated to their farmland in Shirdhon, which now became their primary source of income. But not just him but his parents, his uncle and aunt, and a brother and his family also are dependent on the farm. Even though Deepak and his wife , began to work full-time on the farm, it wasn't going to be enough to sustain their family, educate the children and somehow save. 
So Deepak decided to also open a tea shop and began to cater to the residents of Shirdhon through vada pav and chai. With the tea shop and the farm, they are just able to make ends meet. However, the family lives in a small tin shed home as a kutcha house is all they can afford right now.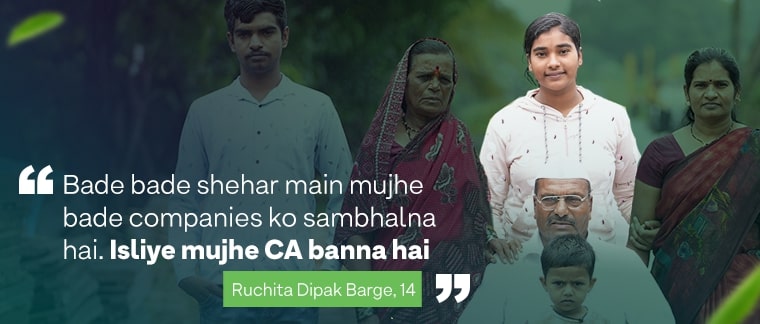 Ruchita is the pride of the family, a ferociously eager 10th standard student who dreams of becoming a Chartered Accountant. "I want to control big companies in the big city!" she enthusiastically exclaims. Ruchita's education is a priority for the Barge family. As their eldest child, they rely on her to achieve her and their family's dreams. And Dipak Barge fully believes his daughter can do anything she wants to do.
"Beti to meri sher hai!" he proudly says. 
Her parents sit with her during her study sessions and work hard to teach her, in between their long days at the farm and tea shop. Determined to uplift her future, her parents applied for her to become a part of the OZiva Kisaan Vikas program, where she will receive monetary support for her studies. 
Ruchita's place in the program is due to her academic success, as well as the sheer willpower of her parents to give her a future despite their struggles. As she progresses towards her dreams, we put our heart behind her, and hope to give her dreams wings! 
We promise to provide more updates on Samiksha, Swaraj and Ruchita's journeys, and the other 98 children in the program soon. Read here for more information on the program and how your purchases help build a sustainable livelihood for 100 farmers and their families. Also read here. 
Visited 1 times, 1 visit(s) today
Last modified: November 24, 2022