Reading Time:
4
minutes
Nowadays everybody wants to be fit and healthy. Proteins are highly effective nutrients on which people generally rely. The higher the protein content, the better will be the tissue repair. Plus, an adequate protein intake also helps burn fat effectively and make the bones stronger. It helps one's body to maintain an optimum blood pressure level. Consuming a high-protein diet helps maintain the hormonal balance and boost immunity. Hence, it's essential to cater to the daily protein requirements of the body. 
Suggested read – Delicious Plant Based Protein Recipes
In this article, we will discuss some of the best delicious high-protein recipes that you can prepare from the comfort of your home. All of them are quick and easy to make. We discuss both plant protein recipes and whey protein recipes, so you can choose based on your tastes. 
High-protein recipes with plant protein
If you are looking for some high-protein recipes which include plant protein, we've got you covered. The below-mentioned recipes don't require a variety of ingredients and can be prepared quickly.
Suggested read – Quick and Easy Protein Recipes
1. Tropical Shake
For the tropical shake, add some juicy fruits like mango, orange, pomegranate, pineapple, and papaya. Next up, add 1 scoop of the Oziva Bioactive plant protein powder for women (each scoop contains 25g vegan protein, 5.5g BCAA, 100% RDA Vitamins & Minerals with ayurvedic herbs) in a mixture. Blend it until it gets smooth. The tropical shake with different fruits and plant protein gives an exotic flavour and is much loved in western countries. Also, the Oziva plant-based protein powder caters to almost 50-70% of your daily protein requirement and comes in a delicious mango flavour that makes it easy to blend.
Suggested read – 3 High Protein South Indian Recipes
2. Banana Almond Milk Smoothie
Banana Almond Milk Smoothie is prepared with 2-4 pieces of frozen bananas crushed in 200-300 ml of almond milk with flax seeds and vanilla extract. You may add some whey protein powder and some hints of cinnamon to add flavour and texture. OZiva Pro Collagen Protein Peptides is a blend of powdered collagen, protein and peptides in a delicious Caramel flavour to add to your smoothie. The banana almond smoothie is very filling and healthy. This smoothie is a perfect liquid breakfast to kickstart your day
3. Healthy Unicorn Smoothie
Blended with dragon fruit puree, frozen banana, mango, and orange juice, this smooth and creamy smoothie is super rich in protein. This is the type of drink every person on a plant-based diet would love to have. Serve the glass of smoothie to your loved ones by adding some whipped cream on the top garnished with a red cherry in the middle. Add some protein powder (either OZiva Bioactive Plant Protein or OZiva Pro Collagen Protein Peptides) to fulfil the required protein value. Trust us, this is all you'd wish for a smoothie to be like – in fact, it will turn out to be even better than what you expect!
Suggested read – 3 Protein Rich Recipes Made with Rice
4. Blueberry, Banana, and Orange Shake
Fused with fresh or frozen blueberries, the Blueberry, Banana, and Orange Shake is refreshingly flavorful and one can effortlessly add it to their diet, making it with plant protein powder or whey protein. You may even add hints of additional flavours to make it more delicious All you need to do is blend fresh blueberries in 200-300 ml milk with some vanilla extract to forge a perfectly recharging shake rich in vitamins and minerals.
5. Apple Pie Smoothie
Filled with almost all the nutritional value, this apple pie smoothie is a perfect choice for all gym lovers. The classic apple pie smoothie recipe is idealised from a traditional recipe in the west. All you need is some crushed apple, soaked oats, vanilla extract, yoghurt, almond milk – and most importantly maple syrup. Whip it in the blender until it becomes smooth and creamy. Serve it with some hints of cinnamon to add an additional flavour.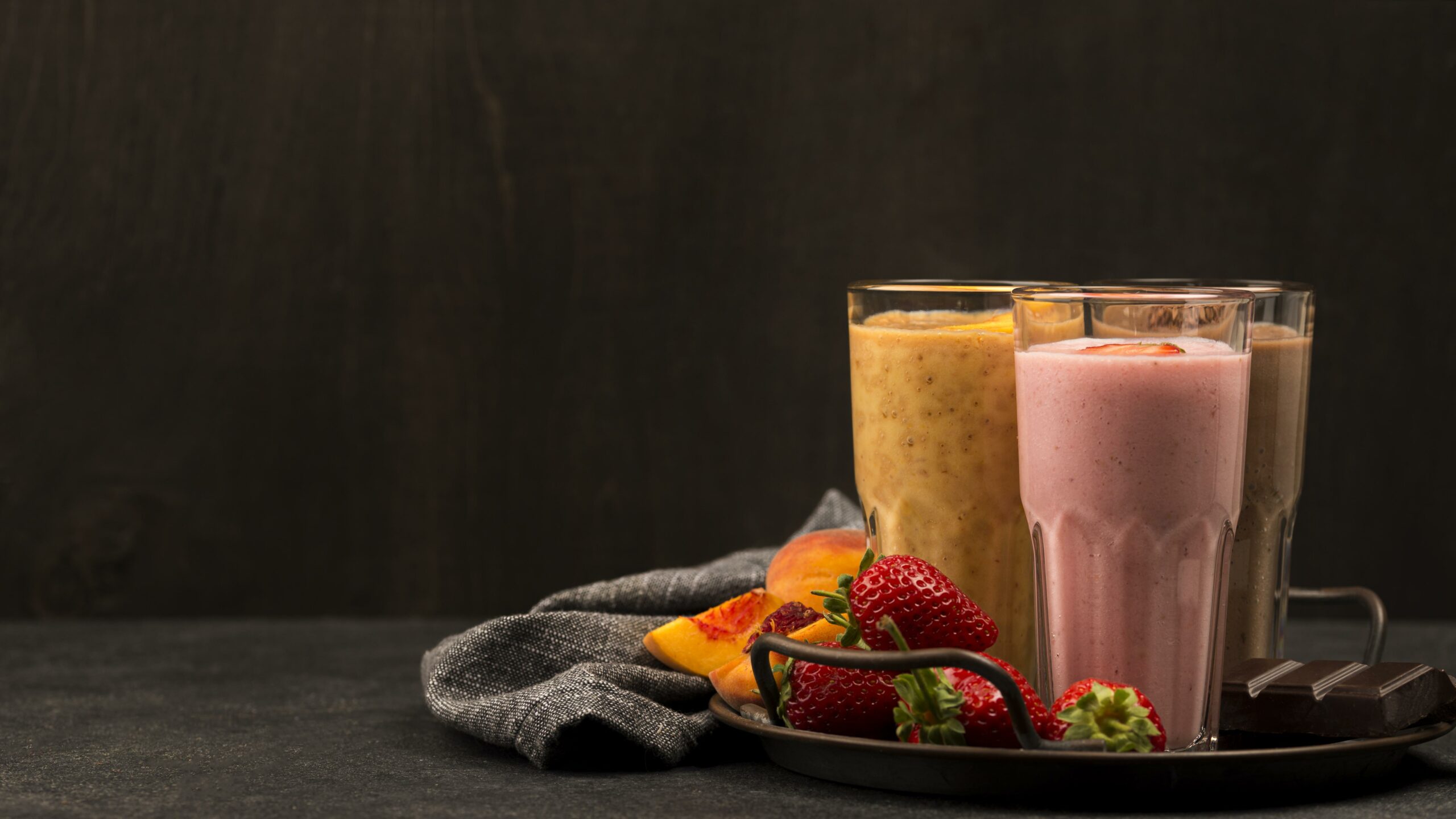 Easy high-protein sweet recipes
Incorporating protein into your daily diet is of paramount importance. At OZiva, you will uncover some of the best protein powder for women, OZiva Pro Collagen Protein Peptides, with collagen and protein peptides. They not only fulfil your daily protein requirement but also help in 50% higher Collagen l and ll Retention*. 
Suggested read – Easy To Make Delicious Protein Rich Dessert Recipes
High-Protein Peanut Butter and Protein Powder Cake
The next in our list of recipes is peanut butter and protein powder cake. This is an easy-to-make recipe and a flawless blend of delightful desserts. You may coat the peanut butter with the mango delight flavour of protein powders from Oziva. Better than store-bought, these cups are extraordinary homemade candies to consume for daily protein requirements.  
No-Bake Cheesecake
No-bake cheesecakes are not a tough recipe to make. They don't require many cooking skills and can be prepared in 10 mins. Whip the cheese to form a cup shape and leave it in the oven for 10 minutes. Now, you can reward yourself with a creamy, custardy piece!
Chocolate Protein Pudding
Chocolate protein pudding is a much-loved protein-rich dessert across the world. The delicious dairy-free and gluten-free chocolate flavour protein pudding can be prepared in just five quick minutes. All you need is sugar, 1 cup protein powder, 3 Tbsps corn starch, 1/4 tsp salt, 2 1/4 cups milk, 2 Tbsps butter or margarine, 1 tsp vanilla extract and whipped topping (optional).  
Conclusion
From protein powder pudding to cheesecakes, you can have high-quality protein in any form. These high-protein delicious recipes will take you to another level of satisfaction! All the above-mentioned recipes and information deliver generic advice only. There may be alternatives for these recipes which suit your body type. It is, however, advisable to consult a nutritionist for better results. 
Visited 1 times, 1 visit(s) today
Last modified: August 2, 2023